What's Up This Week

The Basic Idea

Details/Schmetails

Archives

Participants

Recipe Index

Extras



What's Up This Week
Week 8!

Make your Own Take OUT

[Back to the top]



The Basic Idea

The challenge will run for eight weeks from June 28th- August 22nd. Every Sunday Erin or I will post a weekly wrap up showcasing all of the recipes that participants have tried.

Guidelines:


Cook

! The only strict rule is that you attempt and post about one new- to you recipe each week. The type of dish, cooking method, and quantity are all up to you. The most important aspect is that you have never tried the recipe before.

Post!

Write up your experience on your site including photos, if you can. You can be as in depth as you'd like, but posts should answer the following questions, in addition to providing the recipe: Was the recipe easy to follow? Did the dish taste good? Would you make it again?

Tell us!

Email us the posts permalink and it will be included in the Sunday wrap up.
Every participant who posts each week will be entered in a raffle to win a choice of three cookbooks.
[Back to the top]
Details/Schmetails
These are EXACTLY the same as last year. (Thank you RA and Nic!)
In the case of a week away for whatever reason, you can double up on a recipe during the following or previous week. That is, you can

"cash in" a maximum of 2 recipes per week.
Even if you're not sure that you can try one new recipe each week, sign up and

try anyway!

The cookbook prize is just an incentive, but we applaud all kitchen adventures, no matter how often they transpire. Don't worry, there is no danger of getting voted off the island if you miss a week.
The recipes do not need to be of your own invention, just new to you! Of course, individual creativity is not discouraged in the least.
Be sure to share the original recipes, whether through a link or typing out the ingredients and steps, so that you give proper credit to the source and others know where to find the dish.
For some (optional) structure, look out for jumping-off points to narrow down your recipe search. For example, instead of trying to whittle down the entire food universe, we might nudge you onto the smaller planet of Salads, but going along with that suggestion is completely voluntary.

[Back to the top]


Archives

Week #1:
"Holiday" Favorites
(Wrap Up on WTF Have I Done)

Week #2:
Guilty Pleasure (Wrap Up on MAMA SAID NO!)

Week #3:
Regional Favorite
(Wrap Up on WTF Have I Done)
Week #4:
Healthy Option
(Wrap Up on MAMA SAID NO!)
Week #5:
Spicy
(Wrap Up on WTF Have I Done)
Week #6:
Appetizers
(Wrap Up on MAMA SAID NO!)
Week #7:
A Recipe from your Favorite Chef
(Wrap Up on WTF Have I Done)
Week #8:
Make your Own Take OUT
(Wrap Up on MAMA SAID NO!)
[Back to the top]
Participants
Kim @
Parachuting Without a Net
Tarah @ Form of Function
Katie @ Chronicles of KT
Lacey @ Perks of Being a JAP
Heidi @ Life in Pink
Brenn @ Stranger In a Strangeland
Julie M. @ The Ordinary Days
Julie @ Disgruntled Julie: A PhD in Progress
Stacy @ Classy Not Trashy
KT S @ Non Sequitur Chica
Sara Jane @ The Twists and Turns of A Life w/Curls
Erin P @ Stylish Handwriting
Holly @ I Am Holly Golightly
Margaret @ The Cuddle Co.
Trish @ Gluten Free in SLC
Megan @ Tea and Cake Time
Heidikins @ Heidikins Cooks
Nikki @ Suburban Lush
Jane @ See Jane Blog
Meredith @ Book & Cook
Erin @ The State That I Am In
Darcey @ This Is Not A Blog
Sherry @ Please Contain Your Excitement
Brandi @ Take These Chances
Stephanie @ Call it a Clan
Meghan @ Odds and Ends From Here and There
Emily @ Eating, Running and Loving Life in CBus
Kristy @ UZELICIOUS
Robin @ AbFabGeek
Laura @ From Sparkly to Single
Amy @ Just a Titch
Jennifer @ Cryptic Words Meander
Julianne @ Hey Julianne
Carissa @ The Zany Zest of the Zekvelds
Janet @ Slice of Pink
Ying- Ying @ Sophisticated Adventure
Vanessa @ Random Ramblings
Andrea @ Caffeinate Me!
Becky @
Kristin @ Its time to put on your big girl panties and get over it!
Erika @ Pink Suede Shoe
JP @ PomJob

Your Hosts:

Erin @ Mama Said No!
Julie H. @ WTF Have I Done








[Back to the top]
Recipe Index
Week 1
Week 2
Week 3
Week 4
Week 5
Week 6
Week 7
Week 8

[Back to the top]
Extras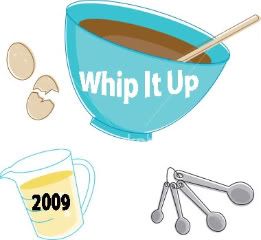 [Back to the top]